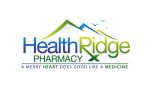 HealthRidge is a family owned and operated full-service pharmacy, proudly serving Black Mountain and the Swannanoa Valley since 1995. We are dedicated to the health and well-being of our community and are here for all of your pharmacy needs. Our pharmacy is equipped with state-of-the-art technology for prescription and compounded medications. We have easy online ordering and offer free delivery on Thursdays.
Available Services:
Prescription Medications

~ Most insurance plans accepted
~ In house discount program
~ Online refills
~ Medication packaging for easy administration
~ Med sync program to pick up all of your medications together at the same time each month!
Order over-the-counter items online and pick up in store. Delivery and shipping also available.
Drive-Thru Window and 24 Hour Prescription Drop Box
Compounded Medications including:


~ Bioidentical Hormone Replacement Therapy

~ Veterinary products

~ Pain creams, and more

Immunizations:


~ Flu (Influenza)
~ Pneumonia (Prevnar and Pneumovax)
~ Shingles (Shingrix)
~ Tetanus (Tdap and Td)
~ MMR (Measles Mumps and Rubella)
~ Meningococcal
~ Hepatitis A&B
~ HPV (Gardasil)
~ COVID-19 (expected Feb 2021)

Greeting Cards

Patient Counseling Services

~ Weight Loss
~ Hormone replacement
~ Diabetes education
~ Medication management
Please let us know how we can help you today!
Open Monday-Friday 9am-6pm and Saturday 9am-1pm. Closed Sundays.