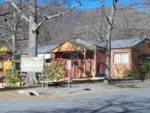 Welcome to the Hidden Gem in the Heart of Grovemont–The Swannanoa Library
This little library is your key to many wonderful things! Get a great night's entertainment with a classic or new release DVD, an eclectic music collection, called by some the best in the system, bestselling novels and non-fiction, plus downloadable books, movies and music. Buncombe County residents, your ticket to our collection is a picture ID and something with your home address. For our visitors–come and sit by our fireplace and read a magazine, do the New York Times Crossword puzzle, or access your email through our Wi-Fi connection. If you love book sales–ours never ends! New donations arrive frequently, so browse and take some good books home at great prices–while helping our Friends help us!
Watch for informational and entertaining programs–from the Buncombe County master gardeners to visits from the WNC Nature Center and many more. Children's programs include our weekly preschool and toddler storytimes, and special events during our Summer Reading Program each year. Visit buncombecounty.org/library for more details.
See Grovemont Park while you're here. We have a great playground and picnic tables for a lunch under the trees. Take a circle around our walking path on the edges of the square, it's a great place for you and perfect to give Fido a workout. Have fun in the park this summer with the musical treat Groovin' on Grovemont in July and August. Groovin' is a great mixture of musical styles like latin, pop, rock and country. While you're there enjoy hot dogs, pizza, ice cream and more.
We're open Tuesday through Saturday–come by and check us out!